White tiles for floor design ideas for your house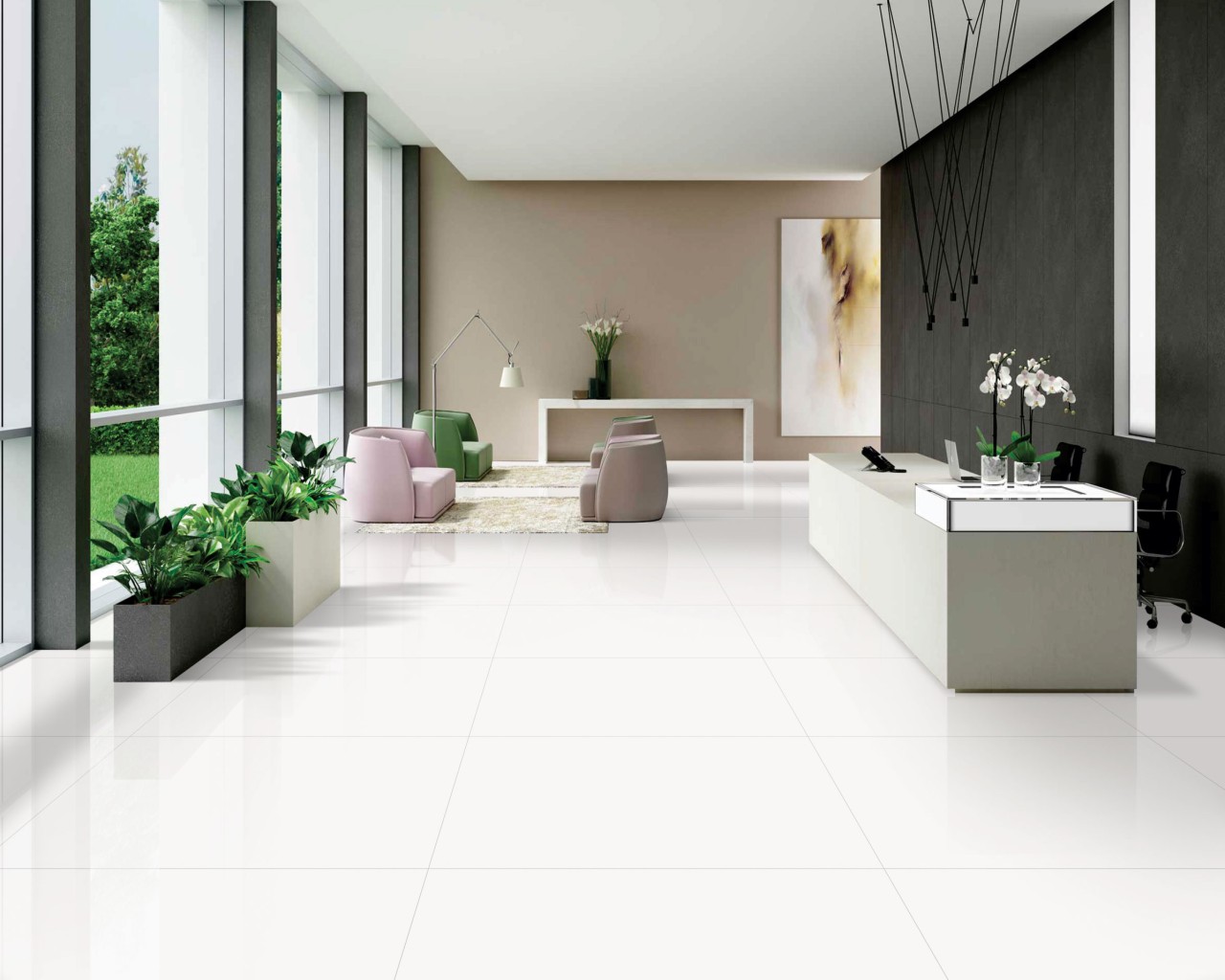 White tiles can be a great way to give any room an instant upgrade. Whether you're looking for an elegant pattern, a subtle background, or something bold and dramatic, there are countless ways to use white floor tiles to complement your decor. Get ready to explore 5 modern design ideas to get the look you've been dreaming of!
Experiment with Textures and Size
White floor tiles come in a variety of textures and sizes, giving you plenty of options for achieving the perfect look. For an eye-catching pattern, play with mixing white tiles in different finishes such as matte, glossy, or textured. You can also mix different tile sizes to achieve a custom effect. Or go for uniformity with one size all over the room for clean lines and order.
Make a Bold Statement With Glossy White Tiles
Nothing else makes a statement quite like glossy white tiles. They look chic and luxurious in any space, from kitchens to bathrooms and hallways. Glossy white floor tiles will reflect light and create an elegant ambiance in the room. You can mix them with other shades of white such as cream or ivory for a softer look, or make it visually richer with gold accents to add more depth.
Create a Feeling of Space by Using Large Format Tiles
If you're a fan of the contemporary look, large format white floor tiles such as 1200x1200mm are perfect for creating a real sense of space in your interior. With fewer grout lines to contend with, you'll be able to achieve a more luxurious finish. Team these with stark white walls, modern furniture and chrome taps and handles for an environment that looks contemporary and chic.
Make an Elegant Look With Marble-Effect Tiles
If you're looking to create a sophisticated and timeless look, opt for white marble-effect floor tiles. The subtle veining pattern found in many natural marbles bring an elegant air of refinement to any room. Choose porcelain tiles with a glossy finish to make your space pop and achieve the desired effect. Pair these with grey shower materials to achieve the perfect blend of light and dark shades.
Add Depth and Interest With Patterned White Flooring
If you're feeling creative, try adding patterned white floor tiles to the mix. Choose graphic shapes like hexagons and triangles, to create an eye-catching focal point in a hallway or kitchen. These geometric tile designs will add instant visual interest while still maintaining a neutral palette.
Choose White tiles from Lycos
Lycos lets you choose from a range of highest-quality tiles from leading floor tile manufacturers, wall tile manufactures, vitrified tile manufactures, and porcelain tile manufacturers in India.
We have lots of Verities, designs, and Patterns in tiles.
Check out our Facilities and Packaging Detail for brief information.
We have our own QC team so as to make sure that we deliver AAA grade quality products.
We give you quality trust and our 24-hour manpower support.
Lycos Ceramic growing faster day by day and you can be the witness of it.
Buy tiles today and join the venture of quality.
Along with Tiles we are also the leading manufacturer of Sanitary ware, Bath accessories, Faucets, Shower etc.
We have a wide range of amazing sizes and patterns that will leave you speechless.
To download our product catalogue and you can visit our E-Catalogue Page.
To see our global market, you can visit our Global Market Page.
Check out our Products.
Regarding any Queries
For any products inquiry, you can directly contact
Mr Raj Patel
export@lycosceramic.com