We have lots of sizes of tiles which you are looking for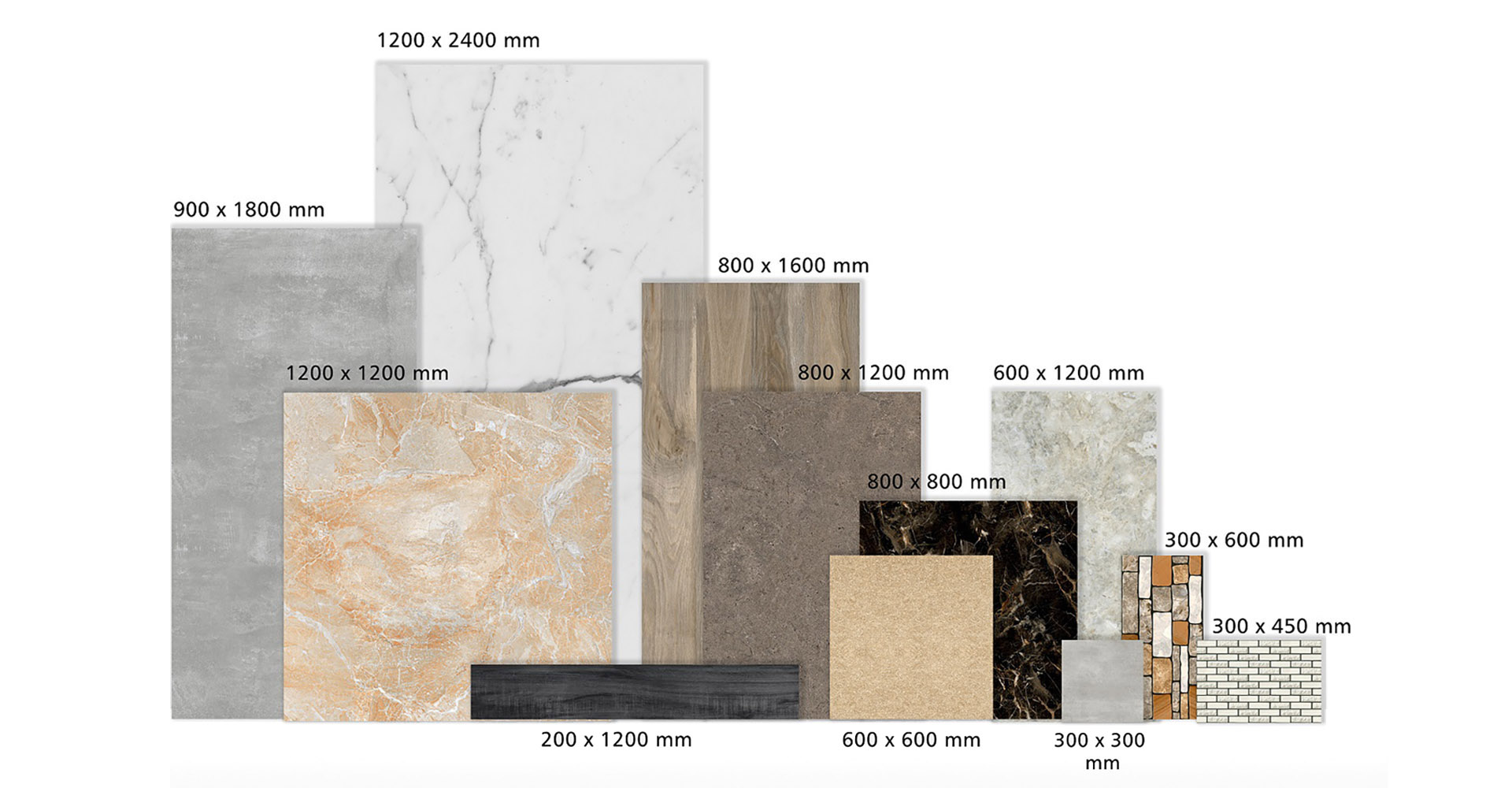 We heard many times that size matters, but it depends for what purpose you are looking for. Size is all about test, there are more than 200 countries in the world so we can assume that there are billions of thoughts who likes trillions of designs so all tiles sizes are differentiate.
In Tiles, size is matters some further importance. People are using different size of tiles in different places like Different size for floor, Different size for wall, Different size kitchen, Different size for bathroom, Different size for bedroom, Different size for living room, Different size for drawing room, Different size for outdoor, Different size for terrace, Different size for stair/step tiles, Different size for commercial places/store and these list go so on.
Lycos Ceramic is leading manufacturer and exporter of Tiles in the world. We always make innovative and quality worthy Products with all tiles sizes and we never compromise on it, that's the factor for our reach to more than 100 countries includes USA,UK, South Africa, Zimbabwe, Germany, Netherlands, Oman, Mauritania, Guatemala, Ecuador, Peru, Argentina etc.
Following are our Tiles Products :
Slab Tiles
Glazed Porcelain Floor Tiles
Glazed Porcelain Wall Tiles
Digital Ceramic Floor Tiles
Digital Ceramic Wall Tiles
 Soluble Salt Tiles
Double Loading Tiles
Metro Tiles
20mm Thickness Tiles
Outdoor Tiles
 Glass Mosaic
Where to buy Tiles?
We have all sizes collection of tiles which is using by each and every country. You can see it in our Product list. In Tiles we have finishes like Matt & Glossy.
We have lots of Verities, designs, and Patterns in tiles.
Check out our Facilities and Packaging Detail for brief information.
We have our own QC team so as to make sure that we deliver AAA grade quality products.
We give you quality trust and our 24-hour manpower support.
Lycos Ceramic growing faster day by day and you can be the witness of it.
Buy tiles today and join the venture of quality.
Along with Tiles we are also the leading manufacturer of Sanitary ware, Bath accessories, Faucets, Shower etc.
We have a wide range of amazing sizes and patterns that will leave you speechless.
To download our product catalog and you can visit our E-Catalogue Page.
To see our global market, you can visit our Global Market Page.
Check out our Products.
Regarding any Queries
For any products inquiry, you can directly contact
Mr Raj Patel
export@lycosceramic.com