Different Types of Kitchen Sink Materials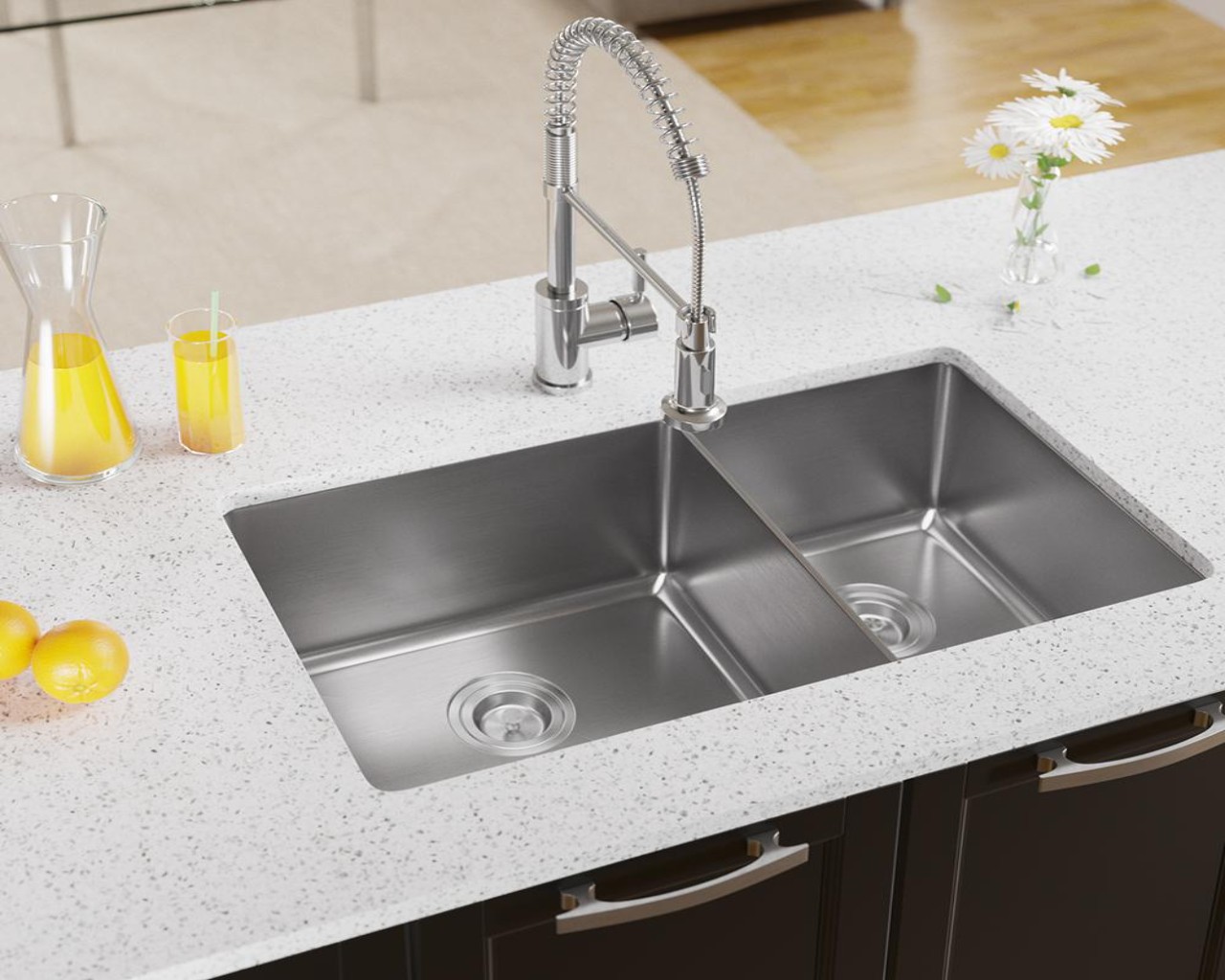 Shopping for a new kitchen sink can be overwhelming with the myriad of materials and types available. Knowing your options is key to finding the perfect sink that suits your kitchen's style and meets your functional needs. From classic stainless steel to porcelain, composite and more, this guide will walk you through all the different types of kitchen sink materials.
Stainless Steel Kitchen Sinks
Stainless steel kitchen sink materials are a popular option thanks to their extreme durability and affordable price point. Thanks to their non-porous construction, stainless steel is an incredibly sanitary option that's easy to clean and resistant to bacteria growth. These sinks are also heat-resistant, allowing you to place hot pots directly onto the sink without worrying about damaging the material.
Porcelain Kitchen Sinks
Porcelain kitchen sink materials, which are also known as ceramic sinks or vitreous china sinks, are some of the most beautiful and long-lasting on the market. Unlike stainless steel, these sinks require more careful maintenance in order to keep their appearance. Porcelain is a porous material that can easily stain if not properly taken care of. However, its unique finish gives it an elegant and luxurious look that can add character to any kitchen.
Composite or Granite Kitchen Sinks
Composite or granite kitchen sink materials are an increasingly popular choice of sink material today. They offer a combination of both durability and beauty, coming in a variety of styles such as classic white, with flecks of color or black. Many composite kitchens sinks require very little maintenance as they can be wiped down easily with a regular non-abrasive cleaner. Composite kitchen sinks are also resistant to scratches and heat so you can be sure that your sink will stay looking great for years to come.
Solid Surface Kitchen Sinks
Solid surface kitchen sink materials are a great choice if you're looking for an organic blend of practicality and beauty. These sinks are created from acrylic, polyester or other similar durable materials which can be sanded and shaped as needed to fit the exact size, shape and design required by your kitchen. The non-porous composition of solid surface sinks makes them incredibly resistant to water damage, scratches and staining, so with proper care they will last a lifetime. Best of all, solid surface kitchen sinks come in many different colors and styles to perfectly suit any kitchen!
Copper and Brass Kitchen Sinks
Copper and brass kitchen sink materials are becoming increasingly popular for their unique look and durability. These sinks come in a range of colors, including brass, copper, bronze and black, that can easily complement any existing décor. Plus, these materials are highly resistant to stains and rust, making them incredibly low-maintenance with the occasional deep cleaning.
Lycos ceramic
If you are planning to buy a kitchen sink Pick up your phone and mail/call us. We will surely give you an attractive offer.
Along with Kitchen Sinks, we are also the leading manufacturer of Tiles, Sanitary Ware, Faucet-Shower, Washbasins, Bathroom Vanity, etc.
We have lots of Verities, designs, and Patterns in tiles.
Check out our Facilities and Packaging Detail for brief information.
We have our own QC team so as to make sure that we deliver AAA grade quality products.
We give you quality trust and our 24-hour manpower support.
Lycos Ceramic growing faster day by day and you can be the witness of it.
Buy tiles today and join the venture of quality.
Along with Tiles we are also the leading manufacturer of Sanitary ware, Bath accessories, Faucets, Shower etc.
We have a wide range of amazing sizes and patterns that will leave you speechless.
To download our product catalogue and you can visit our E-Catalogue Page.
To see our global market, you can visit our Global Market Page.
Check out our Products.
Regarding any Queries
For any products inquiry, you can directly contact
Mr Raj Patel
export@lycosceramic.com