Why choose a Lycos porcelain slab countertop ?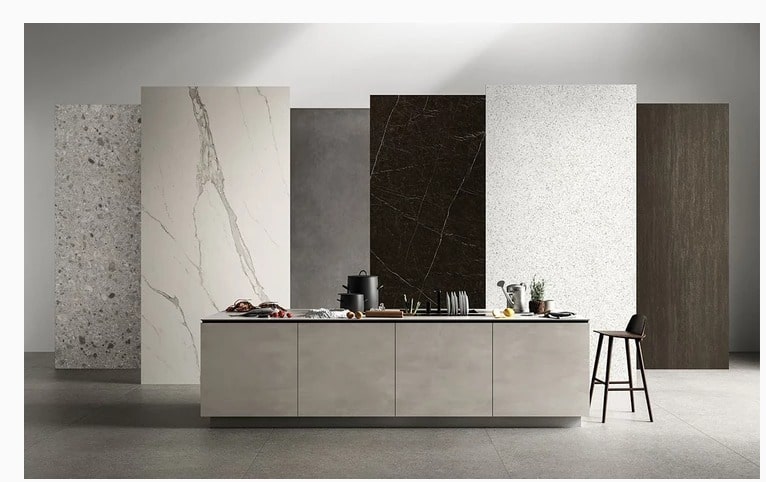 You already have porcelain in your house someplace—but what about porcelain slab countertop? They may not be the material for most kitchens currently but their popularity is on the rise.
Planning a kitchen update? Then porcelain is worth a look. Below, we'll detail the porcelain slab countertop that is durable, lightweight, environmentally friendly, and easy to install.
Lycos Ceramic always make innovative and quality worthy Products with all tiles sizes and we never compromise on it, that's the factor for our reach to more than 100 Countries includes USA, UK, South Africa, Zimbabwe, Germany, Netherlands, Oman, Mauritania, Guatemala, Ecuador, Peru, Argentina, etc.
We are one of the leading Porcelain Tiles Manufacturer and Exporter in the World.
One of the best things about porcelain slab is that you can be used everywhere. 
It is ideal for kitchens with its stain, heat, and water resistance.
It is also perfect for outdoor applications and eliminates the worry of sun damage, as it is completely UV resistant.
Durability & Design
​Lycos porcelain slab countertop, the perfect combination of durability, design and customization.
​A porcelain slab is a mixture of natural materials pressed and subjected to a firing process at over 2,100 degrees Fahrenheit that makes it resistant to wear, mechanical stress and thermal stress. Even the hottest pans. It is a material that caters to your every culinary experiment and the failed ones clean up easily. Lycos porcelain slab countertop do not contain resins, it is hygienic and it is entirely safe in contact with any food. The colour does not change over time and the porcelain countertop does not scratch.
Lightweight
In comparison to other stone material porcelain is lighter.
Lycos porcelain slab available in 1200x2400 MM size with 6mm thickness Means it is a lightweight option compared to natural stones. It said that high-quality porcelain is 40% stronger than granite stone.
Environmentally-Friendly and Recyclable
Porcelain is made of 100% natural and clay-based materials. Therefore after years of use, you can easily recycle your old porcelain slab countertops.
Easy to Installation
Porcelain slab countertops are so thin, you can install them directly over your existing countertops. This can reduce the overall difficulty and expense of removing the older material.
Many colors are available
If you want to redecorate your kitchen countertop. Lycos provides various porcelain slab colors that are manufactured as well.
We have all types of tile sizes collection which are using by each and every country. You can see it in our Product list. In Tiles, we have finished like ceramic and porcelain tiles, glass tiles, stone tiles, mosaic tiles, and brick tiles.
We have lots of Verities, designs, and Patterns in tiles.
Check out our Facilities and Packaging Detail for brief information.
We have our own QC team so as to make sure that we deliver AAA grade quality products.
We give you quality trust and our 24-hour manpower support.
Lycos Ceramic growing faster day by day and you can be the witness of it.
Buy tiles today and join the venture of quality.
Along with Tiles we are also the leading manufacturer of Sanitary ware, Bath accessories, Faucets, Shower etc.
We have a wide range of amazing sizes and patterns that will leave you speechless.
To download our product catalog and you can visit our E-Catalogue Page.
To see our global market, you can visit our Global Market Page.
Check out our Products.
Regarding any Queries
For any products inquiry, you can directly contact
Mr Raj Patel
export@lycosceramic.com