6 Best Bathroom Vanity Storage Ideas | Bathroom Decor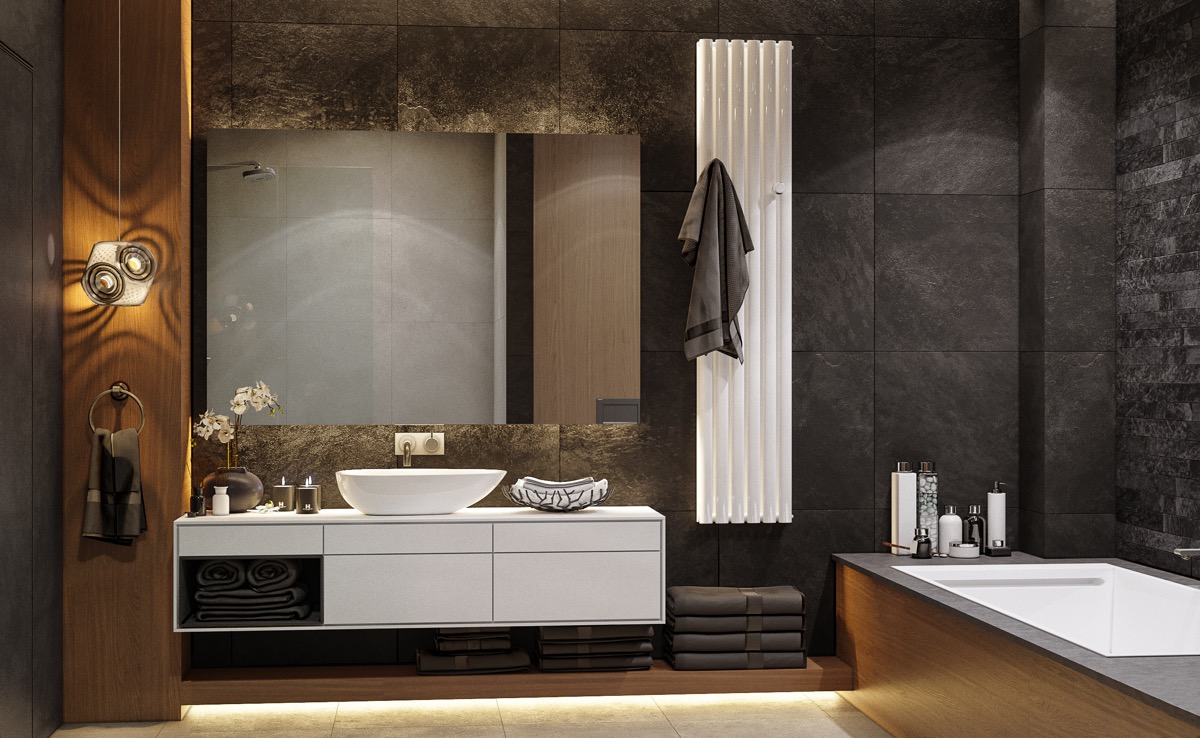 Freaking out over Bathroom Vanity? Frustrated?
Do you get stuck when choosing Bathroom Vanity for your Bathroom?
Bathroom vanity add tons of style and personality to your bathroom.There are so many different types Bathroom vanities for you to browse from, and it can become increasingly difficult to know which of these types is perfect for your bathroom.
Bathroom vanity is combination of sink, a countertop, a place to store toiletries and linens, and a mirror.
Bath vanities should be be durable to be able to hold out against daily wear and tear. It must be capable of standing up to water, soap, cosmetics, and steam, so no porous and delicate surfaces are allowed.
Vanities available in six basic types: pedestal, free-standing, floating, vessel, under-mounted sink and cabinet.
Pedestal sink is the simplest type of sink with no countertop or space for storage.It's just combination of sink and basin hence it require less space.These are generally simple standing sink don't provide any storage facilities but you can adjust vanity space also according to image. This can be an ultimate choice for smaller bathroom because of its style and look-make your bathroom look more interesting.
"Free-standing vanity" is something refers to a vanity that stands up from the floor.A free-standing vanity is much like pedestal style, offered same functional features but also available in square or rectangular shape. It can support two links this is great for a master bath.Some of the free-standing vanities will come with storage space. You can use these space as to place toiletries or even other things such as towels.
A floating vanity, also called wall-mounting vanity.It is a little different that it is directly mounted on your bathroom wall rather than sitting on the floor. If you don't have much more storage space, you can simply owning this vanity.This is going to be a really convenient option if you aren't too worried about having many cupboards or drawer space. There is a gap between the floor and a bottom unit, making it easier for cleaning.
This is the fairly newest arrival vanity type on the bathroom scene which creates a unique vanity. The sink fixes on top of the vanity, and it often looks like a bowl. Mostly these types are often found in restaurants and hotels that give lavish decors. you can definitely use this style in your own home to give royal touch.This vanity provides storage options at the bottom.So, you can keep all your cosmetic items nicely.
In under-mount sink, the sink portion of the vanity being under-mounted so, it provide little bit of protection.As sink is installed under the surface of the vanity, giving you more place on top for storage.Under-mount sink vanity provide enough top surface which is usually for storage of soap; while the bottom shelving for storing other bathroom products. It gives smooth sleek appearance but it is little more difficult to install.
A vanity cabinet is similar to your kitchen cabinets with pull-out drawers and shelves.You can customize your storage according to your needs. Available in many door and hardware styles.
Need some extra storage for your bathroom? Simple bathroom shelves are gorgeous and affordable.
Buy Lycos luxury bathroom accessory that is good for extra glamour to your bathroom.
One of our favorite bathroom storage ideas is to combine open shelves and cabinets to create s storage. And it's interesting to look at.
If you are planning to buy Bath Accessories! Pick up your phone and mail/call us. We surely give you an attractive offer.
We are supplying our products, from an individual to a giant company.
So whoever you are we cares for you!
Along with Bath Accessories, we are also the leading manufacturer of Tiles, Sanitary Ware, Faucet-Shower, Kitchen Sink, Bathroom Vanity etc.
We have a wide range of amazing designs, sizes and patterns.
Our Products.
For more information, you can visit our E-Catalogue Page.
To see our global market, you can visit our Global Market Page.
Regarding any Queries :
For any products inquiry, you can directly contact
Mr. Raj Patel
export@lycosceramic.com