What Different Types Of Porcelain Tiles Are There?
Porcelain tiles can add a stylish touch to any space. They are highly prized for their versatility and can be used to decorate both walls and floors.
This article is regarding everything you need to know about the type of porcelain tiles. You might have read so many article posts comparing porcelain tiles to ceramic tiles or other tiles. But you might not have all types of porcelain tiles. As a top porcelain tiles manufacturer and exporter, we will have an article dedicated just to porcelain tile to help answer all your questions before you decide on new flooring. There are many types of porcelain tiles.
Types Of Porcelain Tiles
Glazed porcelain tiles are best for indoors and will really add to the aesthetic of your house. They are great for kitchens, bathrooms, and even squeaky clean laundry rooms. Due to the glazing process, this tile is available in a wide array of colors, allowing you to achieve just about any look you desire. Go ahead and get creative.
Glazed tile is also often used as a kitchen backsplash, giving you the flexibility to choose a color scheme to match the style of your space. Because of their durability and scratch resistance, glazed tile is long-lasting and can stand anything the kitchen might throw at them.
Neno tiles are durable and slip-resistant. They may not give you the look and sleek finish you want for your house. Plus, Neno tiles are also less resistant to staining. If you're looking to lay tiles in places like the bathroom, shower, and pool area, you'll definitely want to go with something slip-resistant to stay safe. Neno tile is the better option as they are less slippery. Neno tiles also are great for exterior or high traffic areas.
Double Charged Porcelain Tiles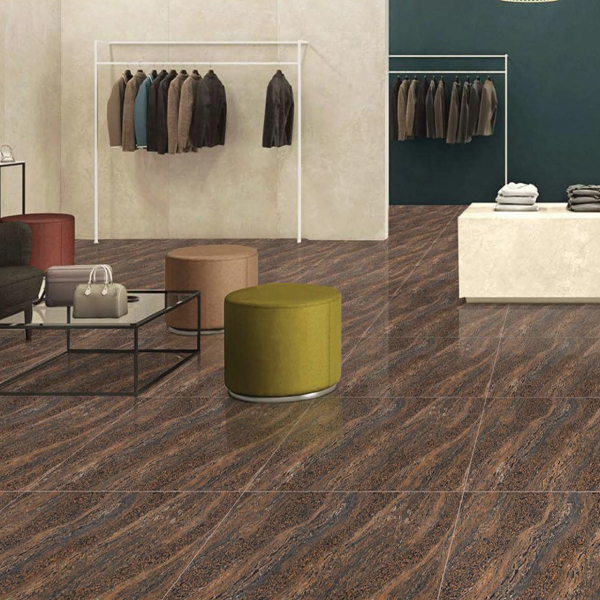 Double charged porcelain tiles could be polished, semi-polished, glazed, or of matt finish. The process of manufacture involves the mix of two types of clay to create unique designs in the porcelain tiles.
Full body porcelain tiles
If you are looking for the best floor tiles in terms of strength, resistance to stains and scratches, along ease of installation, then full body porcelain tiles should be your choice.
At Lycos ceramic, we feature a unique collection of porcelain tiles that add aesthetic value to your space. They have high slip resistance, abrasion, and tear resistance. Popular in the European market, porcelain tiles are available in glossy and matt finish.
Lycos ceramic is the most popular porcelain tiles manufacturer in India. And also offers the porcelain tiles in 200×1200 MM, 600×1200 MM, 600×600 MM, 800×800 MM, 200×1000 MM, 300×600 MM size range. Explore our distinctive collection and give a rich look to your house.
Lycos Ceramic
Lycos lets you choose from a range of highest-quality tiles from leading floor tile manufacturers, wall tile manufactures, vitrified tile manufactures, and porcelain tile manufacturers in India.
We have lots of Verities, designs, and Patterns in tiles.
Check out our Facilities and Packaging Detail for brief information.
We have our own QC team so as to make sure that we deliver AAA grade quality products.
We give you quality trust and our 24-hour manpower support.
Lycos Ceramic growing faster day by day and you can be the witness of it.
Buy tiles today and join the venture of quality.
Along with Tiles we are also the leading manufacturer of Sanitary ware, Bath accessories, Faucets, Shower etc.
We have a wide range of amazing sizes and patterns that will leave you speechless.
To download our product catalog and you can visit our E-Catalogue Page.
To see our global market, you can visit our Global Market Page.
Check out our Products.
Regarding any Queries
For any products inquiry, you can directly contact
Mr Raj Patel
export@lycosceramic.com