Which Tiles Are The Best : Glossy Tiles Or Satin Matt Tile ?
Selecting tile for your Home is not so simple anymore. Because there are many tiles available in the market with different shapes, colors, styles, finishes,textures and at Lycos Tiles, we know all too well that this can be overwhelming. Size, color, and shape are necessary factors to consider, but an often neglected factor is its Finish- Gloss finish or Satin Matt. Both these surfaces are made with the same raw materials and have similar manufacturing processes but the main difference is the level of smoothness and shine. Glossy tiles are glazed with a durable coating of glass which makes it brighter and smoother and this is the main difference between Glossy tile and Matt tile.
Which Tile are the Best for home: Glossy Tile or Satin Matt Tile? To make your selection process easy, Lycos Ceramic brought a comparison between glossy Tile and Satin Matt Tile.

GLOSSY TILES:
Let's start with the traditional evergreen tile-Gloss tiles.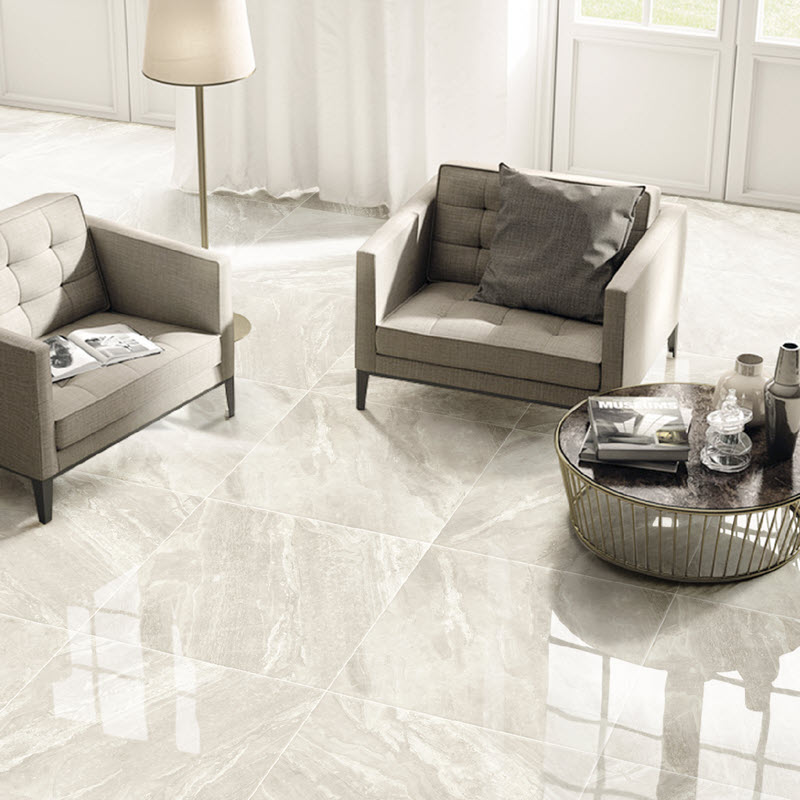 PROS:
1.

GLOSSY TILES

MAKES THE ROOM LOOK BIGGER AND BRIGHTER

It has feature that they reflect light all around the space so that makes your space brighter and lighter. As a result, smaller spaces appear larger actual than they actually are. It is perfectly suitable for smaller spaces and for rooms that have lighting limitations.
2.

GLOSSY TILES ARE EASY TO CLEAN
Due to the smooth and glossy surface, it is easy to clean.Stains will be easily removed just by simply wiping with a damp mop.This is one of the many reasons as to why gloss tiles are a popular choice for messy spaces.
3

.

GLOSSY TILES ARE THE BEST OPTION FOR WALLS:



It is also recommended to locate glossy tiles in kitchen wall and bathroom wall where you can remove food and soapy residues with a single wipe.Due to the slippery nature of the gloss tiles, It is perfect suitable for Walls.
CONS
1. GLOSSY TILES HIGHLIGHTS IMPERFECTIONS



Glossy tiles have a smooth surface so it is easy to clean but If cleaning is not done on regular basis, watermarks, smudges are clearly visible. A mirror-like surface shows everything clear even the tiniest of scratch, stain, or fingerprint

2. GLOSSY TILES MAKE SLIPPERY SURFACE
On the downside of glossy tile, the smooth surface of the gloss-finish tiles becomes more slippery when become wet.so,it is not for senior citizens, kids and pregnant women.You should take extra care while walking over this glazed tile.
IDEAL SPACES FOR GLOSS TILES: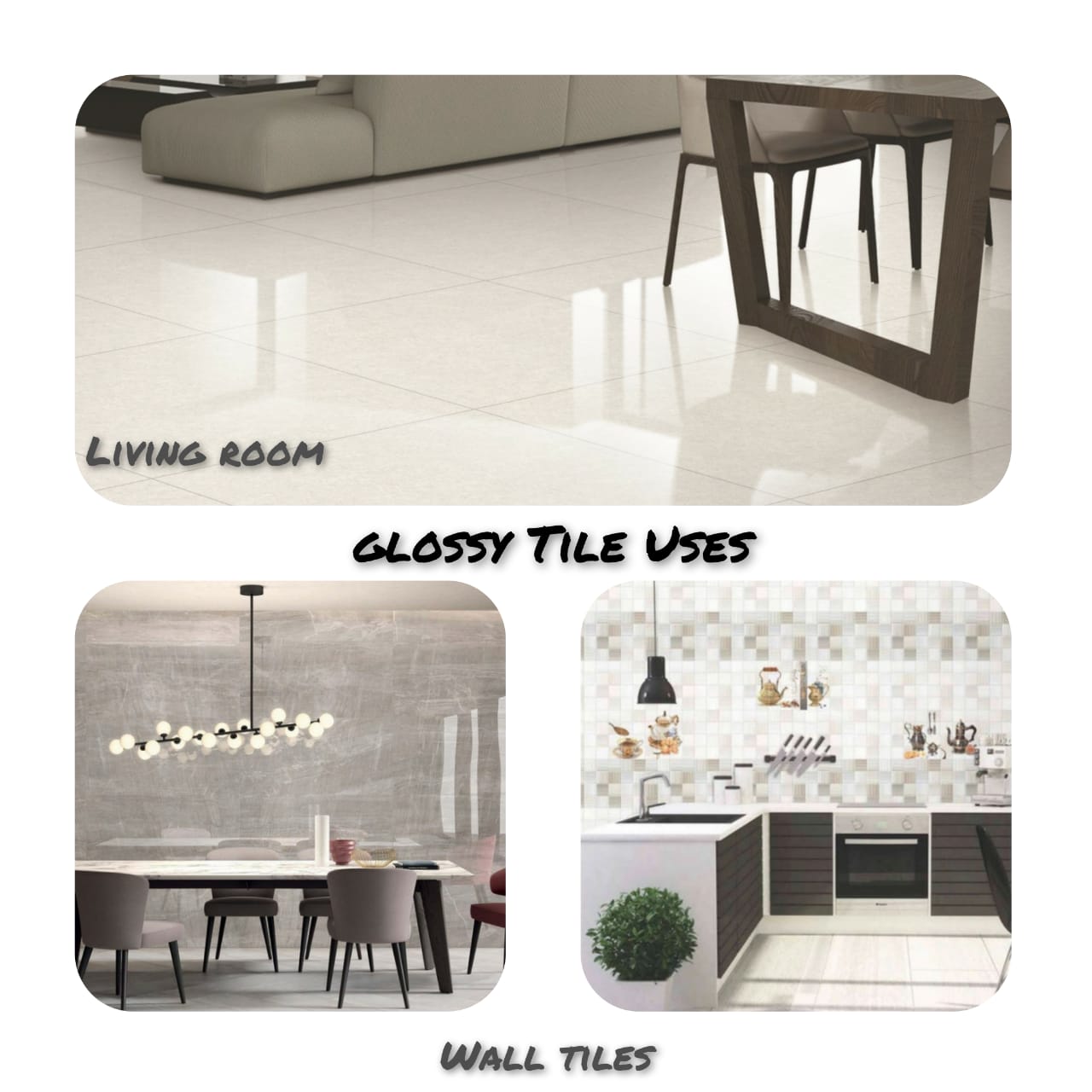 The smooth finish of the tiles makes them perfect for bathroom walls and kitchen splash backs.
MATT TILES
Matt tiles are less smooth and shiny compare to glossy tiles. Giving a natural or rustic look in a living space with matt tiles. One of the major features of Matte tiles is that they do not show smudges and watermarks as easily as glossy tiles. This makes them ideal for the bathroom floor.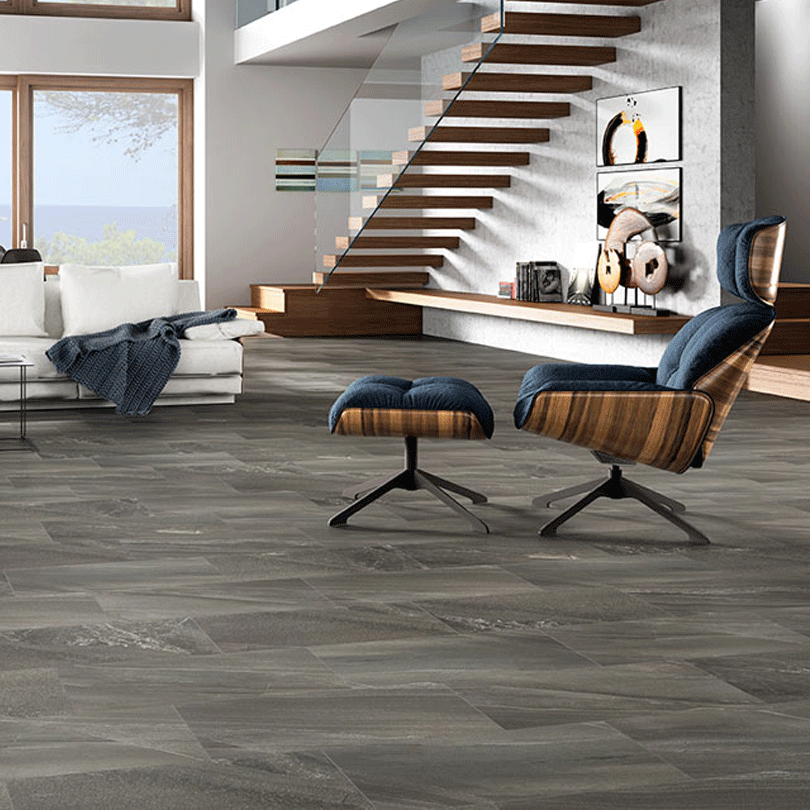 PROS
1. MATT TILES ARE KNOWN FOR BETTER GRIP



One of the major benefits of placing matte tiles is that it is slip-resistant, making it the perfect as well as the safe choice for all homes. Outdoor areas are recommended to tiled with matt tiles due to their Non-slippery nature.
2.

MATT TILES GIVE NATURAL RUSTIC LOOK
If you prefer a sophisticated look over a luxurious feel then this tile is for you. Matt tiles add natural rustic look to your decor by adding warmth.
3. MATT TILES HAVE LOW MAINTENANCE
As Matt tiles do not show smudges and watermarks so it doesn't require frequent cleaning. Due to this characteristic it is the best option for busy places.

CONS
1. IN MATT TILES STAINS ARE DIFFICULT TO REMOVE
Matt tiles do not show smudges and watermarks so it doesn't require frequent cleaning. But removing stains is a difficult task because the matt tiles are not as smooth as gloss tiles.

2. MATT TILES NOT SUITABLE FOR DARK ROOM/SMALL ROOM
Select Matt tile when you have enough lighting both natural and artificial, as these tiles are not known for reflecting light.
IDEAL SPACES FOR MATT TILE:
Matt tile is perfect for outdoor areas and wet areas like swimming pool bathroom floors to achieve slip resistance and a natural look.
CONCLUSION: USE A MIXED COMBINATION OF MATT FINISH AND GLOSS FINISH.
As glossy tiles reflect light back so it is an ideal choice for smaller spaces like a small kitchen, box room, etc.
Flooring, Outdoor areas, Wet areas-like bathrooms are suitable for matt surfaces because they give better grip.
Still Confused? Come visit our showroom. Lycos Ceramic provide you the best alternatives for your space.
We have lots of Verities, designs, and Patterns in tiles.
Check out our Facilities and Packaging Detail for brief information.
We have our own QC team so as to make sure that we deliver AAA grade quality products.
We give you quality trust and our 24-hour manpower support.
Lycos Ceramic growing faster day by day and you can be the witness of it.
Buy tiles today and join the venture of quality.
Along with Tiles we are also the leading manufacturer of Sanitary ware, Bath accessories, Faucets, Shower etc.
We have a wide range of amazing sizes and patterns that will leave you speechless.
To download our product catalog and you can visit our E-Catalogue Page.
To see our global market, you can visit our Global Market Page.
Check out our Products.
Regarding any Queries
For any products inquiry, you can directly contact
Mr Raj Patel
export@lycosceramic.com