White Tiles Trend Alert: Discover the Latest Designs Taking Over
White tiles for a Kitchen : Elevate your kitchen's style with our White Tiles collection, available in both glossy and matte finishes for both walls and counters. The glossy finish adds a touch of sophistication, reflecting light to brighten your space, while the matte finish offers a refined charm with its textured appeal. Whether you're aiming for a modern or cozy aesthetic, our White Tiles are designed to enhance both the visual appeal and practicality of your kitchen.
2. White tiles for Dining Table Top : Revitalize your dining experience with our White Tiles collection, ideal for creating a stunning table top. Elevate your dining space with the timeless beauty of white tiles, offering both style and durability. Whether you're hosting a casual brunch or an elegant dinner, our White Tiles will enhance the aesthetics of your dining area while providing a practical and easy-to-clean surface.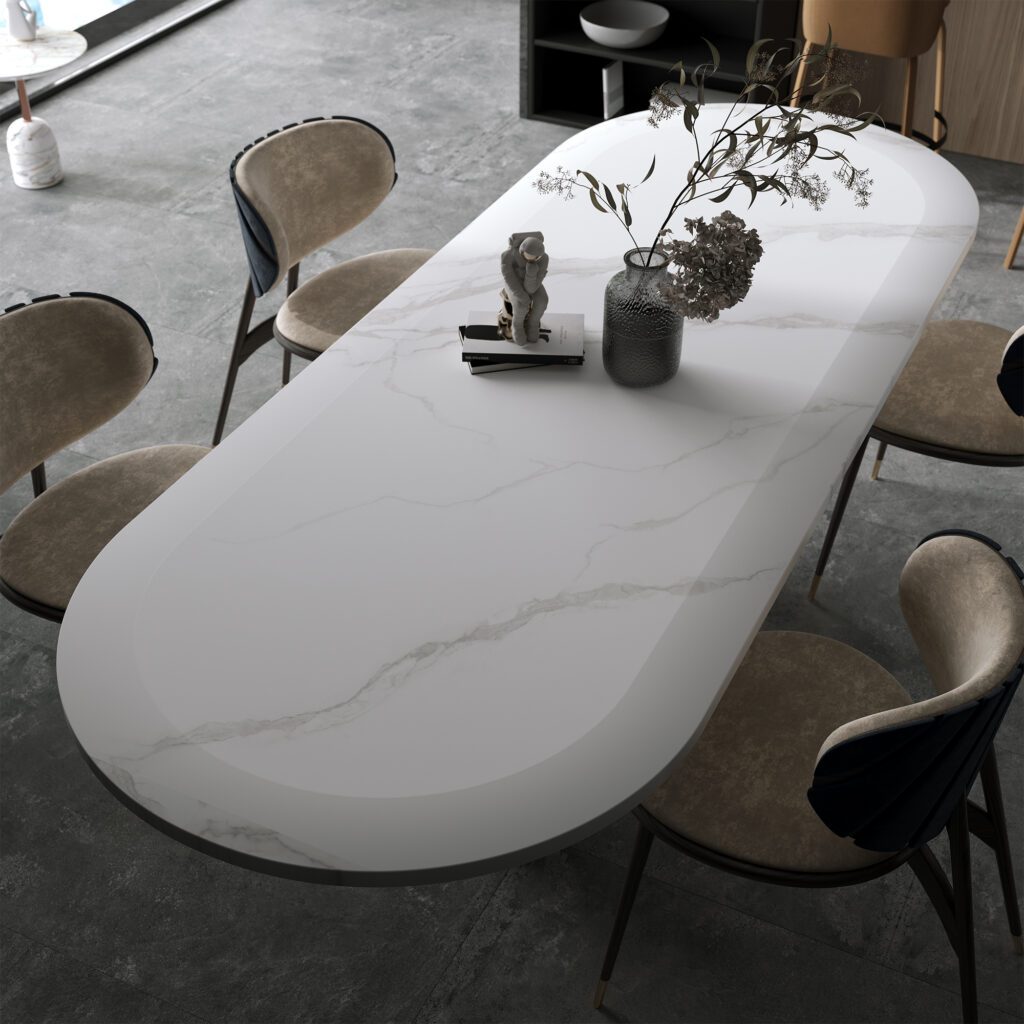 3. White tiles for Bedroom Wall : Transform your bedroom into a serene oasis with our White Tiles collection, designed for exquisite wall slab applications. Elevate your space with the elegance of white tiles, creating a calming backdrop that complements various decor styles. These tiles not only add visual appeal but also offer a durable and low-maintenance solution for your bedroom walls. Experience the perfect blend of aesthetics and functionality with our White Tiles for a bedroom that exudes tranquility and style.
4. White tiles for Living Room Wall : Elevate your living room's aesthetics with our White Tiles collection, curated for your TV unit wall. These tiles seamlessly combine style and functionality, adding a touch of elegance to your living space. Whether you're watching your favorite shows or hosting guests, our White Tiles create a sophisticated backdrop that enhances the overall ambiance. Experience the perfect balance of design and practicality with our white tiles, turning your TV unit wall into a captivating focal point that reflects your unique style.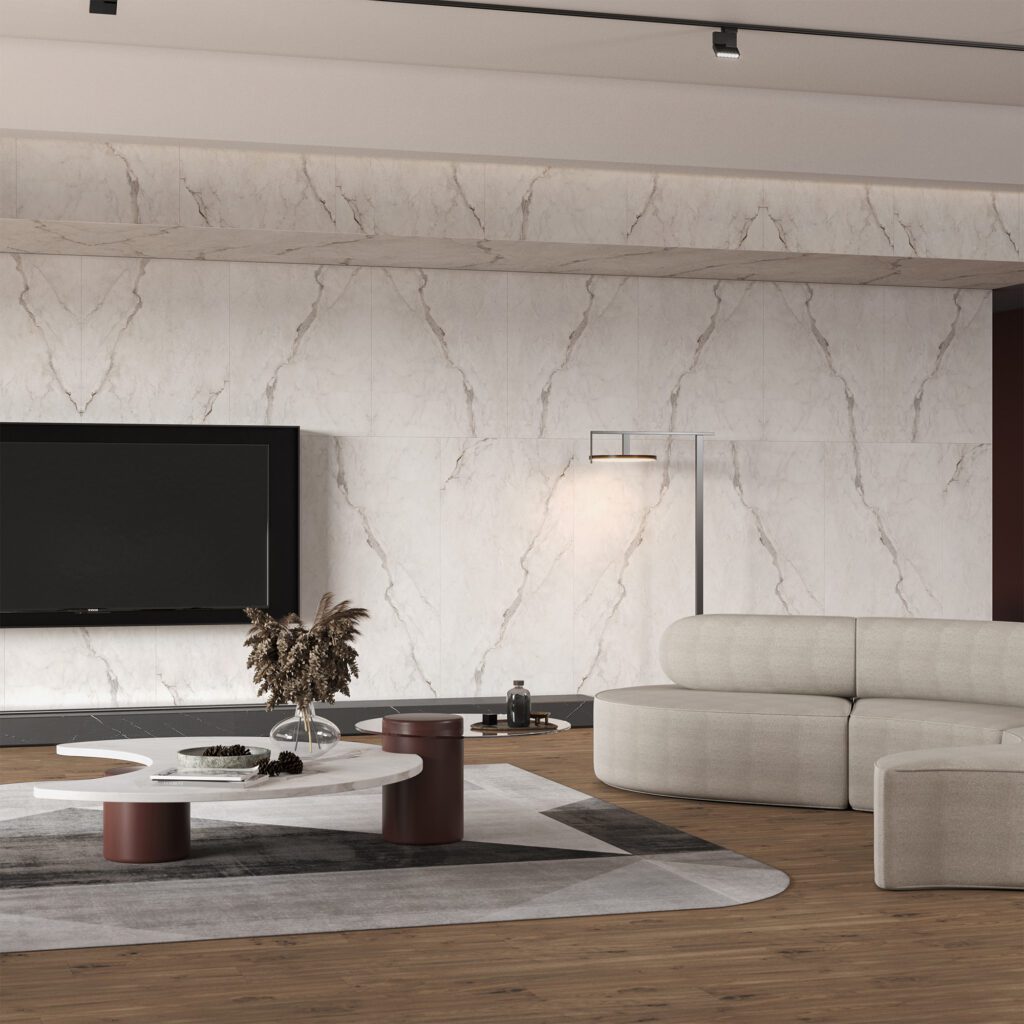 5. White tiles for Bathroom : Revitalize your bathroom oasis with our White Tiles collection. Designed to evoke a sense of tranquility and purity, these tiles offer a timeless backdrop for your personal retreat. Whether you're aiming for a minimalist spa-like ambiance or a classic look, our White Tiles create a clean and soothing atmosphere. With their easy-to-clean surface and versatile design, they're the perfect choice to transform your bathroom into a sanctuary of comfort and style.
6. White tiles for Wash Basin area : Enhance your wash basin area with our White Tiles collection, specially crafted to elevate both style and functionality. These tiles offer a clean and elegant backdrop that complements the aesthetics of your space. Whether your design vision leans towards modern minimalism or classic sophistication, our White Tiles provide a pristine surface that effortlessly combines beauty and practicality. Transform your wash basin area into a statement of refinement with the timeless charm of white tiles.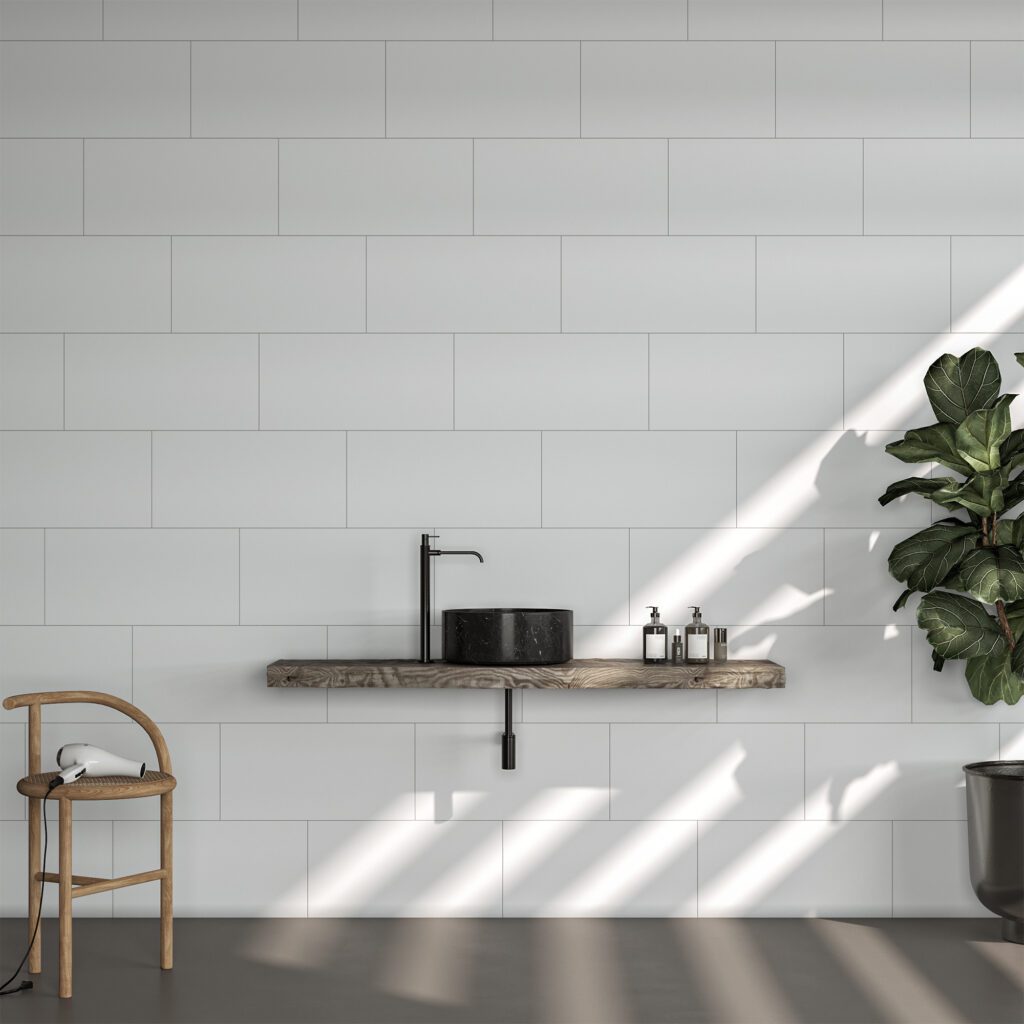 7. White tiles for Floor : Elevate your floors with our White Tiles collection in a striking carving finish. These tiles combine the timeless charm of white with intricate carved textures, creating a surface that's as visually captivating as it is durable. Whether you're designing a luxurious entryway or a statement-making living space, our White Tiles with carving finish add depth and character to your floors. Experience the perfect balance of elegance and craftsmanship, transforming your floors into a work of art that truly stands out.
8. White tiles for Office : Elevate your office environment with our White Tiles collection, designed to inspire a sense of professionalism and modernity. These tiles offer a clean and sleek aesthetic that complements various office designs, from contemporary to traditional. Whether you're creating a reception area, meeting room, or workspace, our White Tiles provide a versatile backdrop that exudes sophistication. Experience the perfect blend of style and functionality, enhancing your office's visual appeal and creating a conducive atmosphere for productivity.
Along with Tiles, we are also the leading manufacturer of Sanitary Ware, Bathware, Bathroom cabinets, Kitchen sink, LED mirrors etc.
Check out our Facilities and Packaging Detail for brief information.
We have our own QC team so as to make sure that we deliver AAA grade quality products.
We give you quality trust and our 24-hour manpower support.
Lycos Ceramic growing faster day by day and you can be the witness of it.
Buy tiles today and join the venture of quality.
To download our product catalogue and you can visit our E-Catalogue Page.
To see our global market, you can visit our Global Market Page.
Regarding any Queries
For any products inquiry, you can directly contact
Mr Raj Patel
export@lycosceramic.com