Marble vs Tiles : Which Is The Best Flooring Option?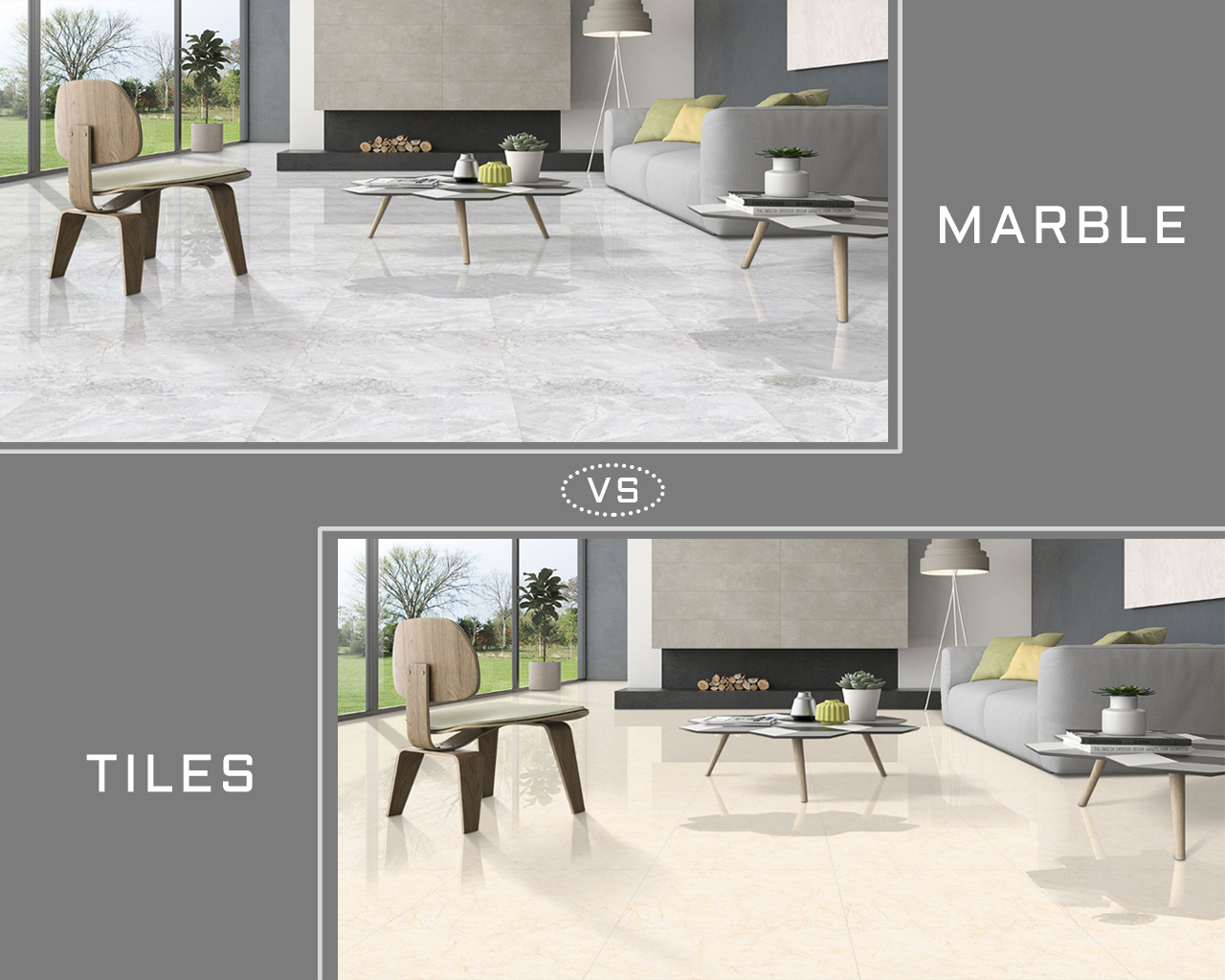 Tiles and marble both are popular materials. In this article difference between tile flooring and marble flooring will be considered. You will make the best flooring choice for a home.
Tiles come in a large variety of designs, colours, patterns and textures. You can design tiles to natural materials such as wood. Suitable for both interior and exterior use, Tiles are available in glossy, matte and anti-skid finishes.
Marble is a very popular natural stone that is cut into slabs for a variety of temples, hotels and countertops. Marble is available in different colours including white, brown, black, and pink.
Read on to know more about the marble vs tiles flooring.
Marble vs Tiles : Maintenance
Regular dusting and wiping are enough to keep your tiles shining. The tiles are easy to clean and maintain. The tile is available in a standard size and can replace broken tile easily.
Marble vs Tiles : Cost
The cost of tile flooring depends on the design and brand you choose. These tiles are more affordable when compared to marble.
The cost of marble, being a naturally occurring material, is more than tiles.
Marble vs Tiles : Durability
The tile is extremely durable. These tiles are scratch resistant and will easily good for 10-15 years when used with proper maintenance. But, tile is prone to breakage if mishandled.
The marble flooring is stronger than most other types of flooring. With regular maintenance and care, marble flooring can remain intact for around 20 years.
Marble vs Tiles : Variety and finishes
Marble flooring is available as blocks and slabs. Regularly found in shades of black, green, white, brown and grey. Marble finished polished, honed, sand tumbled and brushed. polished marble is used to get glossy finishes. and sand marble can be used for a matte finish.
Tiles are available in glossy, matte, Textured, Unglazed finish, Honed, Polished. Suitable for interior use.
Tiles Pro and Con
Pro
It is more suitable for harsh applications.

It plays an important role in interior decoration.

Requires less maintenance.

Tile is non-porous or non-absorbent in nature.

Easy installation.
Con
Marble Pro and Con
Pro
Marble is very durable.

It is used in high traffic areas.

It is scratch-resistant and fire-resistant.

It is easy to clean.

It is eco-friendly.
Con
Marble installation is difficult.

Wastage is more in marble.

More expensive.

Difficult to clean and maintain.
Choose a tile from Lycos 
Lycos lets you choose from a range of highest-quality tiles from leading floor tile manufacturers, wall tile manufactures, vitrified tile manufactures, and porcelain tile manufacturers in India.
We have lots of Verities, designs, and Patterns in tiles.
Check out our Facilities and Packaging Detail for brief information.
We have our own QC team so as to make sure that we deliver AAA grade quality products.
We give you quality trust and our 24-hour manpower support.
Lycos Ceramic growing faster day by day and you can be the witness of it.
Buy tiles today and join the venture of quality.
Along with Tiles we are also the leading manufacturer of Sanitary ware, Bath accessories, Faucets, Shower etc.
We have a wide range of amazing sizes and patterns that will leave you speechless.
To download our product catalogue and you can visit our E-Catalogue Page.
To see our global market, you can visit our Global Market Page.
Check out our Products.
Regarding any Queries
For any products inquiry, you can directly contact
Mr Raj Patel
export@lycosceramic.com