Porcelain Tiles | A Step towards the Perfection
When it comes to interior part of any construction, choice of Porcelain Tiles are an influential part as it will give the perfection to any building built. Be it Wall Tiles or Floor Tiles; Ceramic Tiles or Porcelain Tiles; Glazed or Unglazed, LYCOS TILES is here to save the day and get your home ready to the perfection.
"We all have ability. The difference is how we use it."
Above mentioned beautiful line, quoted by famous singer Steve Wonder, is exactly relates when it comes to not just choosing Porcelain Tiles but applying it appropriately and best way possible. Also tiles have taken place of expensive stones for decor of residential or commercial sites.
Why Lycos Tiles is the synonym of Perfection?
We, here at LYCOS, have R & D department which is constantly working on innovation of new designs of tiles so that there will always something new to look out for. This is what makes other tiles and LYCOS TILES different as the tiles are produced according to global taste and requirements. Further, our 24*7 dedicated QC department makes sure of getting the AAA+ grade quality tiles by examining various experiments as shown in below picture.
Living Room :
Living room is a front cover of our interior. Every one wants their living room beautiful and attractive because it indicates your taste of choices so you have to be choosy about Living Room Tiles such as Tiles for Floor and Tiles for Wall.
Kitchen :
Kitchen tiles are way different than Room Tiles because in kitchen we have to focus on Wall Tiles too. We have range of Wall Tiles and Floor Tiles which beautify your kitchen.
Commercial Space :
If you are business person then this the point you have to focus on. You have to choose a tiles which indicates your business or services you are providing. In Commercial Space there are Luxury Tiles as well as Regular Tiles. Visit our Porcelain Tiles Product Page.
Bathroom :
We all are mesmerized about Bathroom and we want our bathroom neat and clean also pretty and attractive so what Lycos can do here? We have Bathroom tiles for wall and  floor but apart from that we have range of collection of Faucet, Bathroom Accessories & Sanitary Ware.
Conclusion :
Do this Blog helpful to you? Please let us know in the Social Media, You can also get updated via Social Media or You can directly Message us on following details.
Hope your Day Shine Like Sun 🙂
So, the only question here is, ARE YOU READY TO TAKE A STEP TOWARDS THE PERFECTION? I am sure you are. So do not waste time and contact us on following details.
+919909998712 (WhatsApp)
+917874144141 (WhatsApp)
export@lycosceramic.com
We have lots of sizes of tiles which you are looking for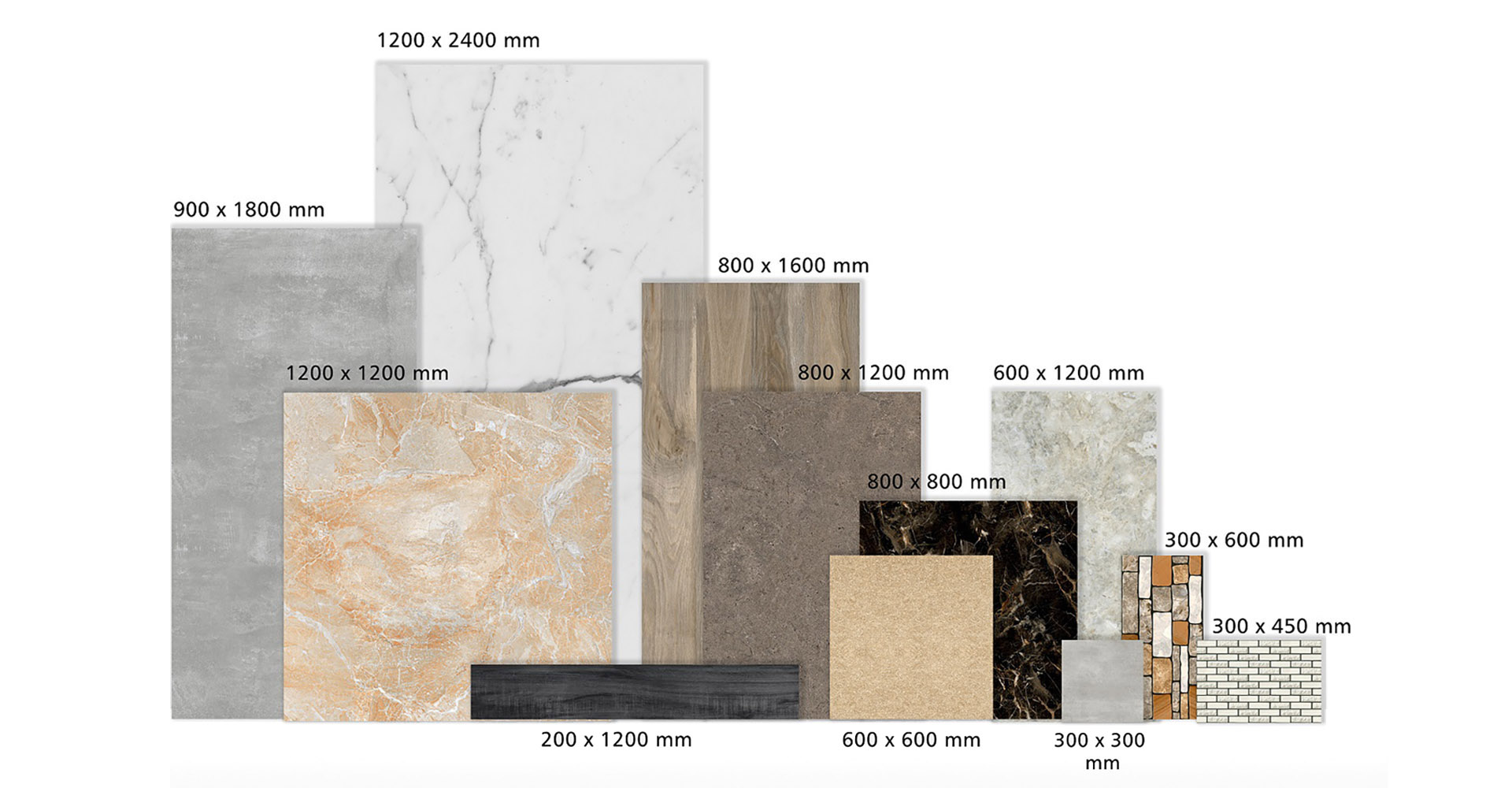 We heard many times that size matters, but it depends for what purpose you are looking for. Size is all about test, there are more than 200 countries in the world so we can assume that there are billions of thoughts who likes trillions of designs so all tiles sizes are differentiate.
In Tiles, size is matters some further importance. People are using different size of tiles in different places like Different size for floor, Different size for wall, Different size kitchen, Different size for bathroom, Different size for bedroom, Different size for living room, Different size for drawing room, Different size for outdoor, Different size for terrace, Different size for stair/step tiles, Different size for commercial places/store and these list go so on.
Lycos Ceramic is leading manufacturer and exporter of Tiles in the world. We always make innovative and quality worthy Products with all tiles sizes and we never compromise on it, that's the factor for our reach to more than 100 countries includes USA,UK, South Africa, Zimbabwe, Germany, Netherlands, Oman, Mauritania, Guatemala, Ecuador, Peru, Argentina etc.
Following are our Tiles Products :
Slab Tiles
Glazed Porcelain Floor Tiles
Glazed Porcelain Wall Tiles
Digital Ceramic Floor Tiles
Digital Ceramic Wall Tiles
 Soluble Salt Tiles
Double Loading Tiles
Metro Tiles
20mm Thickness Tiles
Outdoor Tiles
 Glass Mosaic
Where to buy Tiles?
We have all sizes collection of tiles which is using by each and every country. You can see it in our Product list. In Tiles we have finishes like Matt & Glossy.
We have lots of Verities, designs, and Patterns in tiles.
Check out our Facilities and Packaging Detail for brief information.
We have our own QC team so as to make sure that we deliver AAA grade quality products.
We give you quality trust and our 24-hour manpower support.
Lycos Ceramic growing faster day by day and you can be the witness of it.
Buy tiles today and join the venture of quality.
Along with Tiles we are also the leading manufacturer of Sanitary ware, Bath accessories, Faucets, Shower etc.
We have a wide range of amazing sizes and patterns that will leave you speechless.
To download our product catalog and you can visit our E-Catalogue Page.
To see our global market, you can visit our Global Market Page.
Check out our Products.
Regarding any Queries
For any products inquiry, you can directly contact
Mr Raj Patel
export@lycosceramic.com