Top 4 Glazed Vitrified Tile Finishes For Every Home.
To make the space elegant and attractive is needed to install the perfect tile finish according to the area. It is the dream of every homemaker to decorate every corner of their home and make it eye-catchy and classy.
Glazed vitrified tile is an excellent floor tile as it has significant durability with a wide range of designs, colors, and sizes. You can experience the benefits of using it such as the lowest water absorption rate, being highly resistant to stains and scratches, the ability to withstand wear and tear, and more.
Some of the different finishes of glazed vitrified tile with their characteristics are mentioned below:
Matt Glazed Vitrified Tile
Matt glazed vitrified tiles are the best option to give a modern and rustic touch to the area. These tiles are highly anti-skid, stain-resistant, and lightweight. It is suitable in any space because it creates an aesthetic look.
At Lycos ceramic matt tile finish is available in different sizes, 600×1200 mm, and 600×600 mm. It is suitable for the bathroom, living room, and other spaces.
High Gloss Glazed Vitrified Tile
If you want to make the space larger and brighter the high gloss glazed vitrified tile is the foremost choice because this tile has a powerful enamel coating that reflects the maximum lights and makes your area shiny & spacious.
In addition, these glazed vitrified tiles bring cleaning very easy. With a clean cloth, warm water, and liquid it can easily get shiny and make maintenance hassle-free. Also, it gives luxury and a vibrant look to the space. This high gloss glazed vitrified tile comes in sizes 600×600 mm and 600×1200 mm which is perfect for any space.
Wood-look Glazed Vitrified Tile
The perfect way to give a natural, luxurious, sophisticated, and stylish look to the area is a wood-look glazed vitrified tile. It offers plenty of benefits such as wear-tear and moisture resistance, ideally for high traffic areas of the house such as the living room and the entrance.
Wood-look glazed vitrified tiles have good compatibility with interiors and get matched with any kind of decore. Wood-look tile is available in a wide range of designs, colors, and sizes of 600x1200mm
Polished Glazed Vitrified Tile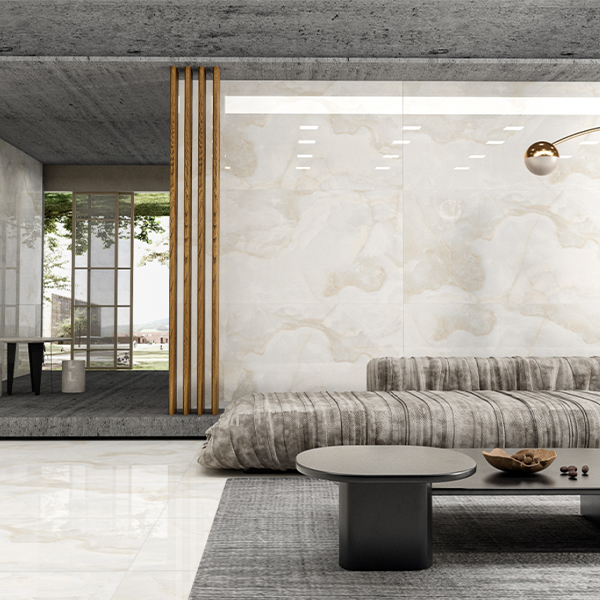 For house flooring polished glazed vitrified tiles are extremely trending. This tile gives a smooth and soothing touch to the space. Also, it is the best choice for residential and commercial areas.
This finish is mainly used in a kitchen, bedrooms, entrances, and other spaces.
Lycos Ceramic
Lycos lets you choose from a range of highest-quality tiles from leading floor tiles manufacturers, wall tiles manufacture, vitrified tiles manufacturers, and porcelain tiles manufacturers in India.
We have lots of Verities, designs, and Patterns in tiles.
Check out our Facilities and Packaging Detail for brief information.
We have our own QC team so as to make sure that we deliver AAA grade quality products.
We give you quality trust and our 24-hour manpower support.
Lycos Ceramic growing faster day by day and you can be the witness of it.
Buy tiles today and join the venture of quality.
Along with Tiles we are also the leading manufacturer of Sanitary ware, Bath accessories, Faucets, Shower etc.
We have a wide range of amazing sizes and patterns that will leave you speechless.
To download our product catalog and you can visit our E-Catalogue Page.
To see our global market, you can visit our Global Market Page.
Check out our Products.
Regarding any Queries
For any products inquiry, you can directly contact
Mr Raj Patel
export@lycosceramic.com