4 Beautiful Bathroom Shower Designs & Decor Ideas
Who doesn't love to take good shower or bath after a long day's workout? Showering after a workout does help your muscles to recover, and boosts your body's ability to bounce back and be ready for your next workout. Discover different types of shower heads and select what works best for you? If you are looking for an upgrade in your bathroom, take a look..!!
Wall Mount Shower Heads
If you are a person who like simple and elegant look and have strict budget constraint, then a simple wall-mounted shower head is a best option for you.These types of shower heads are mostly used in Indian bathrooms for the longest time, it's the single spray shower head.
The installation of a new wall-mounted shower head is simple and also reduces the hassle of maintenance.
Generally the size of wall mount shower head is 5 inches maximum. As the name implies wall mount shower so you can't adjust the height of the shower itself as it is fixed on the wall.
Rainfall / Rain Shower Heads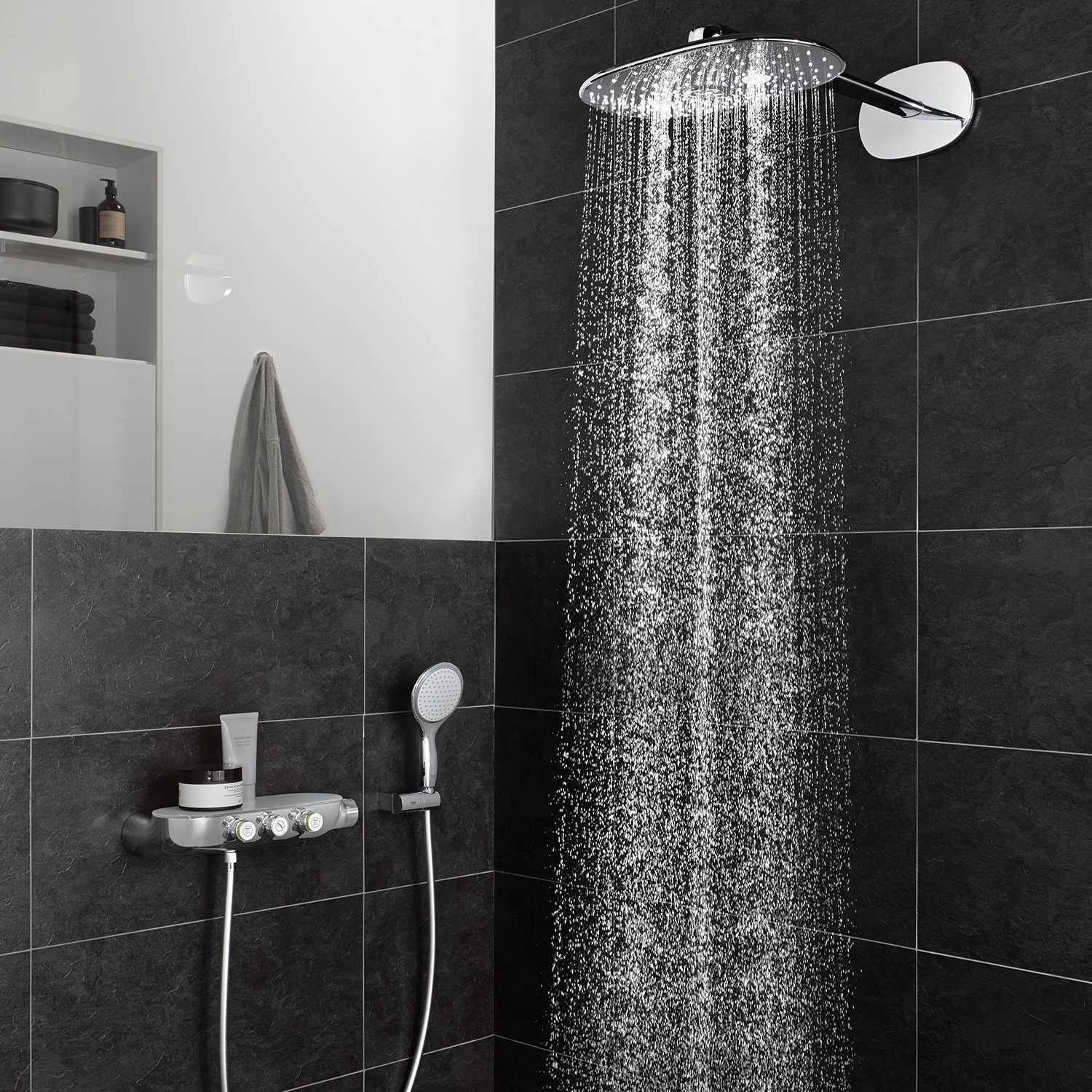 Want to experience of bathing in rain ? As the name, this shower lets you give the feeling of monsoon from the comfort of your bath spaces.This option gradually becoming famous in the Indian market.Its size generally ranges from 6 inches to 12 inches or more.fix it just over your head and so get an enjoyable drenching experience.
Gentle warm drops fall from above, relaxing your tout muscles and calming your mind.
Hand shower/Handheld Shower

Looking for flexible/movable shower? Don't worry! Go for the hand shower/Hand-head as it is more flexible, easy to use, and cost effective also.Handheld shower heads more convenience among all the types as the arm can be moved around.so no need to stand over one place and finish your bath.
Hand shower are ideal choice if you have kids, pets or elderly occupants at home.
Shower panels
For the luxurious shower experience, select  the shower panels. Shower panels and body spray shower heads are designed to give you a spa-like experience.
As showers or sprays are installed from top to bottom, on parallel or adjacent walls, which gives your body a spa therapy.All these features come at a high price, make it more expensive to install.

Shower panels give your bathroom stunning look.
If you are planning to buy amazing shower designs! Pick up your phone and mail/call us. We surely give you an attractive offer.
We are supplying our products, from an individual to a giant company.
So whoever you are we cares for you!
Along with Tiles we are also the leading manufacturer of Sanitary ware, Bath accessories, Faucets, Shower etc.
We have a wide range of amazing sizes and patterns that will leave you speechless.
To download our product catalogue and you can visit our E-Catalogue Page.
To see our global market, you can visit our Global Market Page.
Check out our Products.
Regarding any Queries
For any products inquiry, you can directly contact
Mr Raj Patel
export@lycosceramic.com