Best Indian Pooja Room Design Ideas By Lycos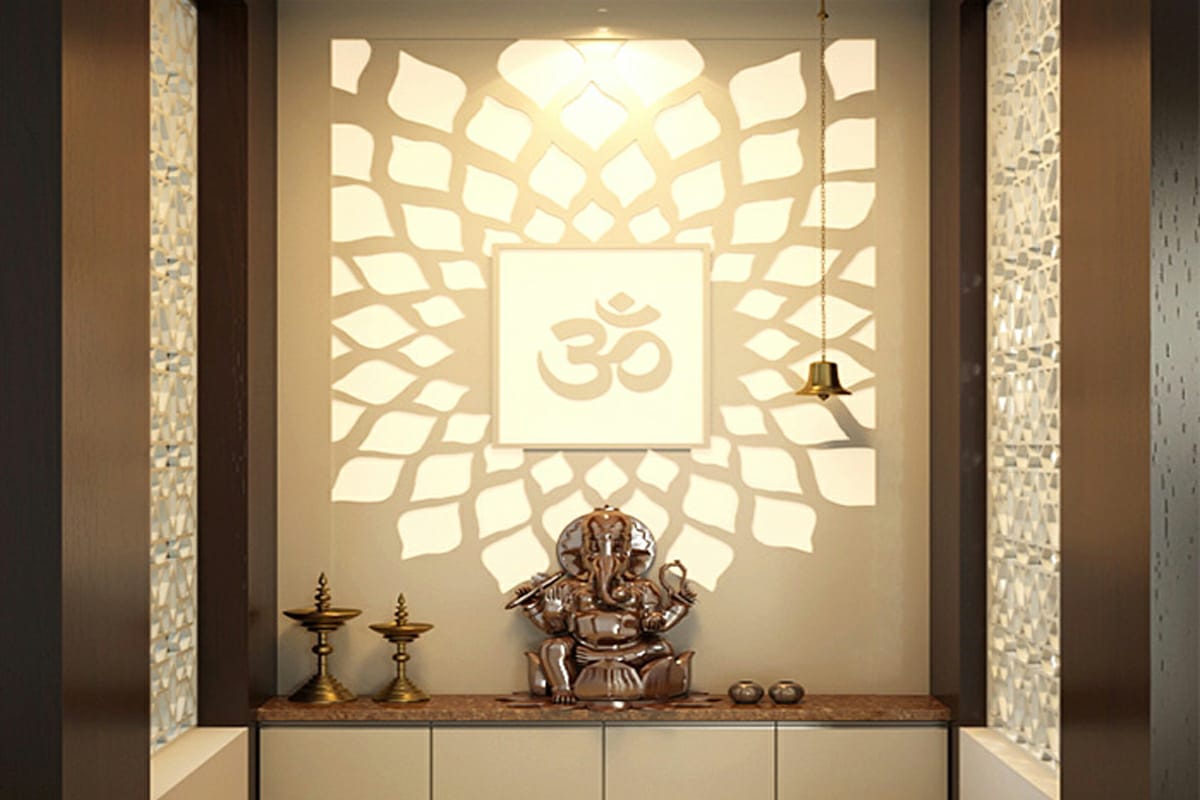 In India, Every home whether it is small or big, has a dedicated Pooja calm space, or special Pooja room where they can forget about all their worries and just dedicate their time to worshiping god. It is the place of the home that exudes happiness, joy, unconditional love, warmth and positive vibes all around.
Since Pooja room holds such an important place in our life.Various factors to be kept in mind as the material, colour, and pattern of the tile while design of a Pooja room.
Interested in knowing the unique yet eye-catching pooja room tile designs?
1.Marble looking tiles For Pooja Room
Marble is always the Top-most choice of everyone when it comes to the Pooja room tiles, but they are highly porous and needed high maintenance. Items such as haldi and kumkum are an essential part of Indian pooja ceremonies; they have a tendency to stain the marble flooring.
But don't worry now we presenting a wide range of marble-looking tiles in the market.They are not high maintenance and have a look of real marble.Use light color or white-colored tile that will bring maximum peace and relaxation for the mind and which will help the people to connect with the divine power easily. These marble looking pooja tiles by Lycos will give your room a very classic look. You can use these tiles for pooja room floor tiles as well as pooja room wall tiles.
2. Printed/Decorative vitrified tiles For Pooja room:
If you want to keep your pooja room simple yet classy, then this is the best design for you. Vitrified tiles are very easy to maintain, and they are quite dazzling.Decorative tiles are getting very popular in the last few years because of their uniqueness.You can install these vitrified tiles in the center of the Pooja room.The God idol printed tiles/Om printed wall tiles will attract all the eyes towards the room as it will enhance the spiritual energies in the room.
3.Wooden tiles For Poojaroom:
One of the primary benefits of wood flooring is it suitable for any place. They can be fitted anywhere in your space be it a living room or pooja room, always adds warmth and keeps you connected to your roots.Wood floors not only add value to your home but also a bit of warmth. For an elegant and aesthetic, look nothing could be better than earthy tones.  If you don't go for natural wooden planks, there are other alternatives present in the market now. You can seen various engineered wood options in LYCOS's catalogue. These traditional pooja room tiles will segregate the pooja room from the whole house beautifully.
Know about Lycos Ceramic
We have all types of tile sizes collection which are using by each and every country. You can see it in our Product list. In Tiles, we have finished like Matt, Glossy, Rustic, Sugar, and Satin.
We have lots of Verities, designs, and Patterns in tiles.
Check out our Facilities and Packaging Detail for brief information.
We have our own QC team so as to make sure that we deliver AAA grade quality products.
We give you quality trust and our 24-hour manpower support.
Lycos Ceramic growing faster day by day and you can be the witness of it.
Buy tiles today and join the venture of quality.
Along with Tiles we are also the leading manufacturer of Sanitary ware, Bath accessories, Faucets, Shower etc.
We have a wide range of amazing sizes and patterns that will leave you speechless.
To download our product catalog and you can visit our E-Catalogue Page.
To see our global market, you can visit our Global Market Page.
Check out our Products.
Regarding any Queries
For any products inquiry, you can directly contact
Mr Raj Patel
export@lycosceramic.com