Dining Area Wash Basin Designs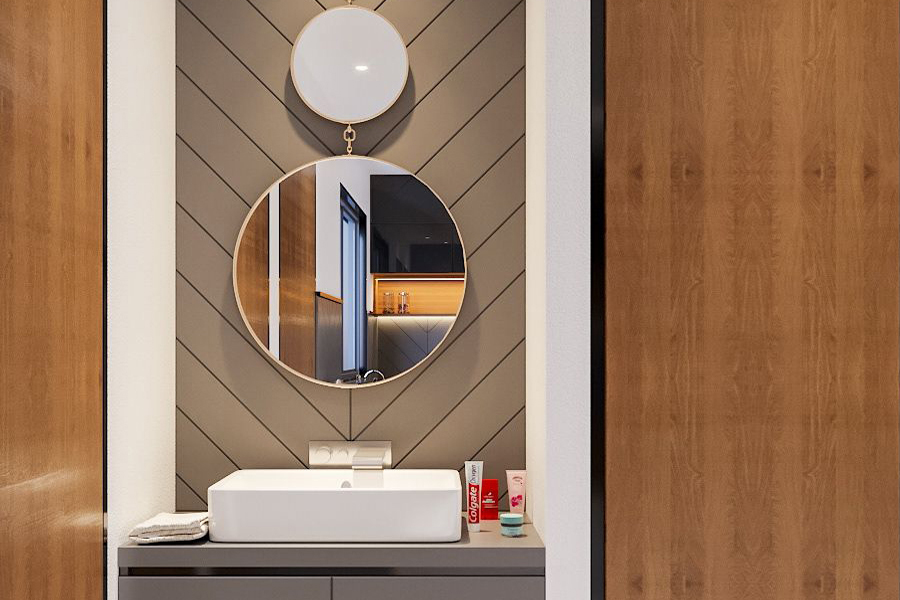 Want to make your Dining Area look stylish?
Modern halls or dining rooms are the focal points of the home, which is often visited by everyone who comes to your home. However, people usually tend to ignore one of the most essential elements in their dining rooms or halls i.e a washbasin.
Washbasins appear to be the most primary thing at home, office, hotel, or any establishment. Wash Basin in a Dining area or a Hall adds an appealing look by making it more decorative and beautiful. From Cleaning hands to housework dishes, your basin plays a crucial role.
Selecting the right washbasin design for the hall or dining room requires a lot of attention because there are a lot of vivid and designer washbasins available in the market.
Here are 5 types of modern Dining area Wash Basin Designs that can add more charm and grace to your space and create an imperial and magnificent look.
Have you seen this kind of washbasin anywhere? Most probably not. Why? That because this is new to the market.
1.

Table Top WashBasin

:
As the name suggests, a Tabletop washbasin is designed to sit on top of the bench.
It is the most conventional choice washbasin for the living room that offers high-durability along with incredible aesthetics.
Tabletop washbasin creates a focal point as it above the counter or cabinet that gives luxurious look. While installing this type of washbasin keep in mind that their height should be low as possible so that they can be accessed easily and hassle-free.
These washbasins come in different shapes like round, rectangle, oval, and many more make it an expensive one.
2.

Drop-In WashBasin
The drop-in sinks are also known as self-rimming sinks. These are mainly designed for vanity or countertop.
This is made with a more traditional concept in mind, where the basin is located in the center of a standard surface. These sinks are very much in use.
The drop-in sinks are equipped with a wide rim, make it easy for maintenance as well as installation.
3.

The Under Counter
An under-mount basin is one that is installed underneath the countertop or benchtop. In this type of washbasin, the rim of the sink is fixed to the underside of the benchtop as opposed to sitting on top of it.
It easy to clean washbasins as it doesn't have rims to store debris.
A good effect is obtained with this kind of installation making it pleasing to the eyes. The sink is often integrated into the top of the counter, making it look like the surface is continuous, appearing as a single unit.
4.

Wall-Hung WashBasin/Wall Mounted
Wall-mounted sinks do not require any counter to rest upon. It will be fastened on the wall with the help of POP or screw.
It is always advisable to select lightweight basins because heavyweight may not hang in the wall by the screw for a long time.
Wall Mounts are the best choice if you go for the budget when compared to the Pedestal Basins.
This type of washbasin saves your floor space, as it does not require a counter, thereby making your dining room look bigger.
This is nice for spots where you have very little space to work with or you simply want a nice minimalist design.
5.

Washbasin On A Pedestal/Free Standing
The pedestal sink is also known as a Free Standing Washbasin.
These are independent pieces and do not require any platform or counter. people looking out for designer Wash Basins mostly preferred these types of washbasin.
It is made up of ceramic material only. This sink doesn't allow for any extra storage, commonly used in the open area They are beautiful, thematic, and elegant.
Furthermore, it is has a great liking for its ability to hide the pipes under the pedestal.
If you are planning to buy WashBasins For Dining Area Pick up your phone and mail/call us. We surely give you an attractive offer.
Along with Washbasins, we are also the leading manufacturer of Tiles, Sanitary Ware, Faucet-Shower, Kitchen Sink, Bathroom Vanity etc.
We have a wide range of amazing designs, sizes and patterns.
Our Products.
We are supplying our products, from an individual to a giant company.
So whoever you are we care for you!
We have a wide range of amazing designs, sizes and patterns in tiles.
Our Products.
For more information, you can visit our E-Catalogue Page.
To see our global market, you can visit our Global Market Page.
Regarding any Queries :
For any products inquiry, you can directly contact
Mr Raj Patel
export@lycosceramic.com
Conclusion :
Do this Blog helpful to you? Please let us know. You can also get an update via Social Media or You can directly Message us on the following details.
There are many Blogs that helps you a LOT, to check out Click Here.
Hope you choose Good Bath