Stylish Hexagon Tile Ideas for Your Home
Hexagon tiles are the best wall and flooring choice for the home,  since it's waterproof, and easy to maintain. The number of options available for home tiles is astonishing. Tiles come in very many shapes, sizes, colors, materials, and textures. You can fulfill any look with tiles. From rustic to modern.
Hexagon tile is one of the most trendy tile ideas in the home. Here we look at these tiles and the different ways you can use them.
Where Can I Use Hexagon Tiles?
Hexagon tile is an easy and classic choice for the bathroom. Seamlessly wrap your wall with the best hexagon tile bathroom ideas. They look so much like some penny wall tiles, but modern hexagon tile is more contemporary and versatile.
Hexagon tile is fantastic for producing an eye-catching wall or floor style in your kitchen without having to devote to bold patterns or even colors.
A backsplash is a great place to introduce hexagon tile. Small tile work in a small place to make a big impact. White hexagon tile for a clean, subtle look, which is always our favorite.
Hexagon floor tiles can be used in any area of the house for an update. They work anywhere square tile is used. Install them on floor in kitchen, bathroom, bedroom, and living spaces.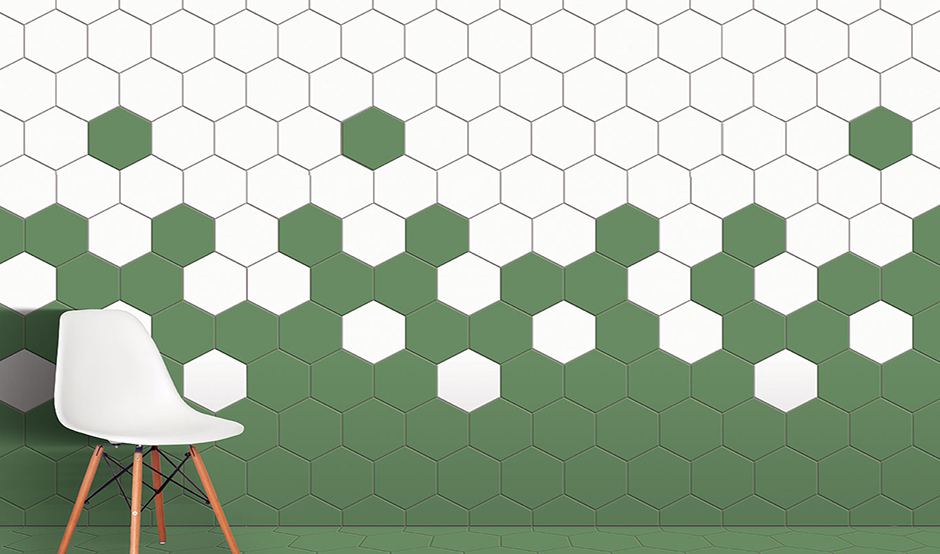 A favorite tiles shape for many, The hexagon wall tile adds interest and character wherever used.  Hexagon wall tiles can create impressive statements.
Black hexagon 
Black hexagon providing a powerful aesthetic in both glossy and matt finish, browse our back hexagon tile for a strictly industrial effect.
White hexagon
The color white in the home signified cleanliness, freshness, and simplicity. Our range of white hexagon tile can be used as a core color for the minimalist interior, or as a base for color contrast in more vibrant approaches.
Yellow hexagon
Yellow hexagon for a bright and bold interior. Use in an area you wish to inject energy, alertness, and fun.
Pink hexagon
Pink hexagon adds a soft and delicate touch to your interior by using pink hexagon tiles. With a shade of rose and plain pink, these color a safe and welcoming feel in your interiors.
Advantages Of Hexagon Tile
Modern, attractive design.

Superb for awkward spaces.

Differentiate floor use.

More pattern permutations with hexagons.
Choose a hexagon tile ideas from Lycos 
Lycos lets you choose from a range of highest-quality tiles from leading floor tiles manufacturers, wall tiles manufacturers, vitrified tiles manufacturers, and porcelain tiles manufacturers in India.
We have lots of Verities, designs, and Patterns in tiles.
Check out our Facilities and Packaging Detail for brief information.
We have our own QC team so as to make sure that we deliver AAA grade quality products.
We give you quality trust and our 24-hour manpower support.
Lycos Ceramic growing faster day by day and you can be the witness of it.
Buy tiles today and join the venture of quality.
Along with Tiles we are also the leading manufacturer of Sanitary ware, Bath accessories, Faucets, Shower etc.
We have a wide range of amazing sizes and patterns that will leave you speechless.
To download our product catalogue and you can visit our E-Catalogue Page.
To see our global market, you can visit our Global Market Page.
Check out our Products.
Regarding any Queries
For any products inquiry, you can directly contact
Mr Raj Patel
export@lycosceramic.com